Dog wallpapers
/
Answers
/
Answer "Will French bulldog be a good companion?"
Will French bulldog be a good companion?
This "Will French bulldog be a good companion?" answer for dog breed French Bulldog was viewed by 4880 visitors.
| | |
| --- | --- |
| Country of origin: | England |
| Other names: | Bouledogue Français |
| Nicknames: | Frenchie |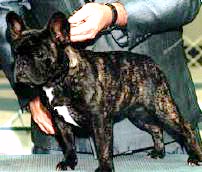 These dogs are strong, loyal, kind and smart – a real happiness for their owners. The origin of this breed is unknown, but there's a version that they have been brought from France. In the middle of nineteen century, this breed has become officially accepted.
These dogs are incredibly smart and can be proud of their sweet temper. They are gentle, attentive and very patient. But some of them are also very stubborn and if the dog wants to do something – you can be sure that it will not stop. French Bulldog is always really bound to its owner, it loves to follow him for hours. These dogs feel good in any environment. If you live in the house, your dog will never annoy you or try to attract your attention – they just sit and wait for you to spend some time together. They love kids and gladly play with them.
Small bulldog is a great choice to take to your apartment. They never bark and love silence as you do. These dogs do not require any special care. It would be enough to check its hair every week. Take care of its eyes and clean its ears on a weekly basis. In addition to all the above, it is recommended to regularly clean the teeth of your pet. If it necessary, you can contact a veterinarian to remove dental calculus.
Answer for dog breed "French Bulldog"