Dog wallpapers
/
Answers
/
Answer "Is scottish terrier easy to train?"
Is scottish terrier easy to train?
This "Is scottish terrier easy to train?" answer for dog breed Scottish Terrier was viewed by 4140 visitors.
| | |
| --- | --- |
| Country of origin: | Scotland |
| Nicknames: | Scottie, Aberdeenie |
| Height: | Male |
| Weight: | Male |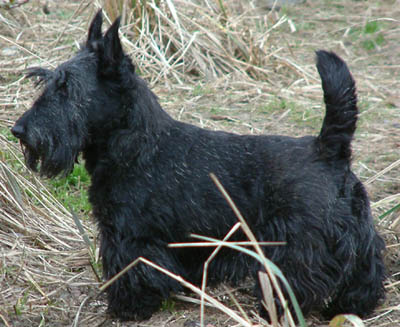 They are hard to train if you want to have a well-trained dog. This breed has been created with a purpose to give them a possibility to be self-sufficient, without any control from a human. If this dog sees a badger, it doesn't have time to ask its owner: "Can I catch it or you want me to stay with you?" Complete loyalty – is not about these dogs. Of course, you can achieve some success with Scottish Terrier training, but the majority of this dogs are almost impossible to train. However, all the dogs should know and obey some really general rules of behavior (such as staying with their owner when he says so).
Start training of your curious pet from its early age. The main aim of such training – is to make it interested in training. And do not require much at once: Scottish Terriers prefer to execute commands slowly and carefully.
Answer for dog breed "Scottish Terrier"